Will All The Cabins Destroyed By Donnell Fire Be Rebuilt?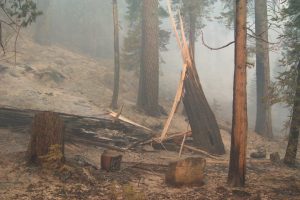 Donnell Fire Impacts

View Photos
Tuolumne County, CA — The Donnell Fire destroyed 54 major structures, and 81 additional smaller buildings, and many residents impacted have been wondering how soon they can be rebuilt. Maps and the timeline of our Donnell Fire news stories is here.
There was a mix of cabins and businesses decimated by the 36,400 acre blaze. Many Forest Service officials were on hand at Tuesday's Tuolumne County Board of Supervisors meeting, and when asked if rebuilding could potentially begin this coming spring, Forest Supervisor Jason Kuiken replied, "There is some chance of that happening, but it will be dependent on which cabin tracts we're talking about. Our distinct aim is to allow every cabin owner who lost their cabin to rebuild in the future. I don't want to put a 'time definite' on that, but that is our distinct plan for moving forward."
Businesses, including campgrounds with concessionaires, are a first priority, but residences are also high on the list. Kuiken noted that cabins in areas with less burn severity will likely be allowed to be rebuilt first. Some tracts are still at very high risk of being impacted by winter storm events over the coming months.
Kuiken added, "The risk will decrease over the next couple of years, to five years. It doesn't mean that we are trying to wait five years to let people rebuild, but it is really site specific, and something that we are trying to work on and coordinate with our regional office."
The county has also promised it will work with the Forest Service in hopes of ensuring that the permit process can go as quickly, and smoothly, as possible.