Failure To Halt At Stop Line Results In Drug Bust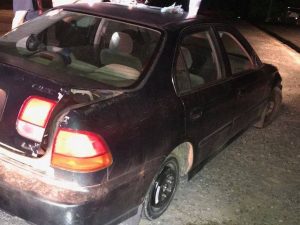 Vehicle at arrest scene

View Photos
Jamestown, CA – An early morning traffic stop in Jamestown for failing to properly halt at a stop sign landed two men behind bars.
Tuolumne County Sheriff's officials report a deputy pulled over a Honda sedan just before 3 a.m. on Friday. The driver, 21-year-old Joseph Rizzuto, crossed over the designated stop line at 5th Avenue in Jamestown.
The deputy ran a records check on Rizzuto and his 25-year-old passenger, Ryan Morrison. It found that Morrison was on probation. That allowed for a search of the vehicle, which turned up heroin, methamphetamine, packaging materials and drug paraphernalia.
Both men were taken into custody. Morrison faces charges of transporting a controlled substance for sale and possession of drug paraphernalia while Rizzuto charges are for drug possession, possession of drug paraphernalia and failing to stop at the stop sign line.
Of note, Morrison was also arrested in December of last year in a DUI related crash and drug bust, as reported here.