Update: Waverly Fire Burns 12,300 Acres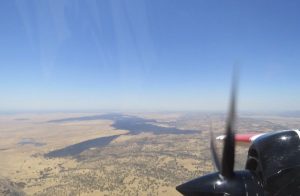 Area Burned By Waverly Fire Viewable From Plane

View Photos
Update at 6pm: CAL Fire reports this evening that the Waverly Fire is 12,300 acres and 65-percent contained. The hike in total acreage today is not due to fire growth, but better mapping, according to CAL Fire. The forward rate of spread continues to be stopped. All evacuation orders and road closures have been lifted as crews made more progress today extinguishing the blaze.
Update at 7:10 a.m.: CAL Fire updates that the Waverly Fire has reached 7,000 acres and 40-percent containment this morning. Winds fueled the flames and will continue to be a challenge today along with the heat, according to CAL Fire. What sparked the blaze is under investigation.
Update at 6:30 a.m.: Calaveras County Water District (CCWD) is reporting that due to the use of its hydrants to fight the Waverly Fire, customers in the Jenny Lind area may turn on their taps to find discolored water this morning. CCWD officials relay that can occur when water is pumped from hydrants at a high volume, which speeds up the water flow in the pipes and scours minerals from the inside walls of the pipe. They stress that the water is still "completely safe to drink and there is no risk to public health." Customer can open an outside faucet on the lowest point on their property and run it until the water runs clear, according to CCWD. Further updates on the blaze can be viewed below.
Original post at 5:45 a.m.: Milton, CA — Firefighters made progress on the Waverly Fire burning near Milton in Calaveras County overnight.
CAL Fire spokesperson Emily Kilgore tells Clarke Broadcasting this morning that the forward rate of spread was stopped overnight.  The blaze is 4000 acres and crews have reached 35 percent contained. Highway 4 as firefighters were able to keep the flames from reaching it last night. Milton Road has also reopened. Evacuations are still in place for all of Rock Creek Road to the Salt Springs Reservoir. A Red Cross Shelter remains open at the Jenny Lind Elementary School located on 5100 Driver Road in Valley Springs. Service animals are being accepted at the shelter per the Red Cross. Last night residents in the communities of Milton and Salt Springs Valley were forced from their homes as nearly 50 homes were threatened.  Kilgore relays that winds fueled the flames and will continue to be a challenge today. She adds what sparked the blaze is under investigation.
As reported here Friday, the Waverly Fire began burning around 3:30 p.m. in grass along North Waverly Road near Shelton Road in the Linden-Peters area of San Joaquin County and then crossed into Calaveras County.