Traffic Alert: Sonora Light Project Extended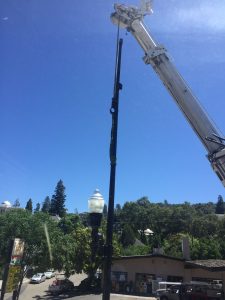 Crew replacing streetlights on South Washington Street in downtown Sonora
Sonora, CA – Crews will be working again on Friday putting up streetlights along South Washington and creating delays for motorists.
As reported here last week, Intren, the special utility contractor out of Concord, was schedule to stop work today (Thursday). They now tell Clarke Broadcasting the work will continue tomorrow between Gold and West Church streets. Friday's hours of operation will be from 8 a.m. to 4 p.m. Flaggers will be directing traffic that could cause delays for traveler especially during commute times. Work will be halted next week due to the 4th of July holiday. Video in the image box shows crews installing the new lights.
City Administrator Tim Miller says that the new metal poles with LED lights and a light socket on top to plug in holiday decorations are being paid for by PG&E after six years of negations with the utility to find the right replacement. Miller explains it came down to aesthetics because the city wanted the replacement streetlights to closely resemble the ones already on North Washington Street. The two agreed on the streetlights pictured in the image box about a year ago, according to Miller, who adds that the projected cost will range from $150,000 to $200,000. Once the twelve poles are up on South Washington Street from Bulwer to West Church streets, crew will begin replacing sixteen streetlights along Stockton Road to Highway 108, according to Miller, which could take several more weeks.