A Facelift For Downtown Streetlights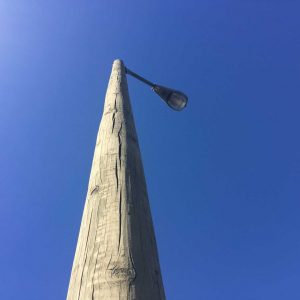 Wooden light pole to be replaced

View Photos
Sonora, CA — Downtown Sonora street lights will get an update next week.
The company Intren, a special utility contractor based in Concord, is working with PG&E to update the streetlights along South Washington Street that will create traffic delays for commuters. Crews will replace the wooden poles with metal ones with a lamp on top. The work will begin on Monday and is slated to end on Thursday. The hours of operation are 8 a.m. to 4 p.m. each day.  The company released this schedule:
Monday, June 25: Between Bulwer St. & W. Lytton St.
Tuesday, June 26: Between W. Lytton St. & Toby St.
Wednesday, June 27: Between William St. & Gold St.
Thursday, June 28: Between Gold St. & W. Church St.
Flaggers will be directing traffic in those areas, which could cause short delays for traveler especially during commute times. The company suggests motorists may want to use Stewart Street as an alternative way to get through downtown Sonora or take Stockton Street to the Highway 108 Bypass.