Suspects Remain At-Large, Four In Custody, After Calaveras Robbery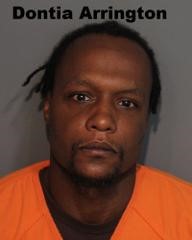 Dontia Arrington

View Photos
Valley Springs, CA — The Calaveras County Sheriff's Office has released more details and continues to investigate Sunday's robbery incident where one person died. A black SUV and a U-haul truck, have still not been found. The suspects that were not captured have been described by the victims as being Middle Eastern, reportedly speaking a foreign language at times during the robbery.
The Sheriff's Office is still working on positive identification of the deceased person, stating "Other defendants in this case are not being forth coming with information on his identity." As reported here, two others were captured by Angels Camp Police Canine Thor.
Sheriff's detectives have pieced together details from victims and witnesses that a large amount of marijuana was arranged to be illegally purchased at 4pm the 4000 block of French Gulch Road near Murphys.
According to the Sheriff's Office, the location includes a residence that was previously registered as a commercial medical marijuana cultivation site, but was denied in March 2018 for failure to pay Measure C taxes by the Calaveras County Planning Department. Also, in September 2016 the Sheriff's Office recommended denial of this site's registration due to failure of the applicant to disclose an arrest or conviction.
Multiple vehicles arrived to make the purchase, described as a black SUV, U-haul truck, and a black Range Rover. Multiple suspects brandished firearms, made threats, and tied up victims. Several victims were beaten and they report the suspects were trying to get information about additional marijuana sites, more marijuana, or more money. Suspects stole personal items from victims' persons as well as marijuana, cash, and one of the victim's vehicles. The suspects reportedly left driving the black SUV, U-haul truck, black Range Rover, and a victim's white van. A victim called Sheriff's Dispatch to report the crime which prompted a Be On the Lookout alert while deputies responded to the scene.
Within minutes a Sheriff's Deputy began a pursuit of the black Range Rover. A person who exited the Range Rover during the chase was later pronounced deceased. A large amount of cash was recovered from the ground in the area and in his pockets. As stated the two other occupants of the Range Rover who fled were later captured by Canine Thor.
Other Sheriff's Deputies in the area conducted a traffic stop on the white van, which contained a large amount of marijuana, and arrested two suspects.
The four arrested subjects were booked into the Calaveras County Jail. They are described as from Roseville, San Diego, and Illinois. Officials say several of the suspects from Illinois have been identified as documented criminal street gang members.
Anyone with information regarding this crime is asked to contact detectives through Calaveras County Sheriff's Office dispatch at (209) 754-6500 or our anonymous tip line (209) 754-6030.