Update: Calaveras Robbery And Death Investigation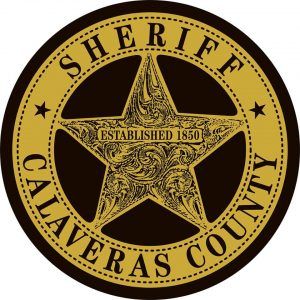 Calaveras County Sheriff's Office

View Photos
Update at 11:35am: Providing further details, Calaveras County Sheriff Rick DiBasilio tells Clarke broadcasting that the van stolen from the Murphys area was a U-Haul that was filled with marijuana. Also, the person who exited out of the Range Rover was believed to be the driver of that vehicle. After he went out, the Range Rover continued and crashed into the nearby small trees and fence. At that point, the two others inside got out and took off running.
Original story posted at 9:15am: Valley Springs, CA — A person was robbed at gunpoint just outside of Murphys last night, several suspects were arrested following a later pursuit, and one person died in the incident.
The Calaveras County Sheriff's Office says that a caller reported at around 6:45pm that multiple men, in various vehicles, had robbed him and others of cash, marijuana, a white van and other expensive personal belongings. Six victims were reportedly bound, threatened, and in some cases, beaten with a taser.
Shortly after receiving the report a Calaveras County Sheriff's Deputy located a group of vehicles matching the description traveling westbound on Highway 12 near Valley Springs. When the deputy tried to pull over one of the vehicles, a black Range Rover, the driver accelerated. As the SUV approached Double Springs Road, one of the occupants exited out of the Range Rover while it was still travelling at a high rate of speed. Medics responded and pronounced him dead at the scene. The official cause of death is undetermined, and an autopsy will be conducted. The sheriff's office has not identified the man, and only describes him as a "black male." Evidence of the robbery was located near his body on the side of the highway.
The Range Rover continued and eventually went off Highway 12 and hit some small trees and a fence. Two suspects then took off running. The sheriff's office, Angels Camp PD and CHP set up a perimeter around the area in search of the men. They were located and placed under arrest with the help of the Angels Camp PD's K9 Thor.
In addition, while other deputies responded, the stolen van was located and pulled over nearby. Two additional suspects were arrested and a large amount of evidence related to the robbery was confiscated.
Taken into custody in total were 32-year-old Mark Noble and 38-year-old Dontia Arrington, both of Illinois, 41-year-old Talia Khio of Roseville and 29-year-old Roddy Johnson of San Diego. They face charges of armed robbery, conspiracy, kidnapping, false imprisonment, etc.  One of the suspects suffered severe injuries and has since been transported to a hospital outside the area.
Two additional suspects are still at-large. The Sheriff's Office reports that they were described as speaking a foreign language, possibly Armenian, during the robbery. It appears as though the robbery was a pre-planned crime, according to officials.
Last night sheriff's detectives and crime scene specialists were in Murphys and Valley Springs carrying out the ongoing investigation.
We'll pass along more information when it becomes available.