California Moves Towards Providing Postage For Ballots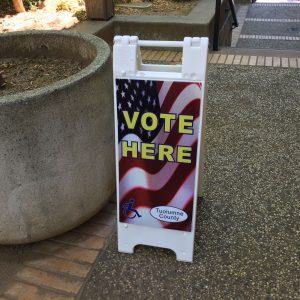 Tuolumne County Elections Office

View Photos
Sacramento, CA — A bill passed in the California Senate that would require ballots sent out to voters include free postage to mail them back to the election's office.
The bill earlier was approved by the Assembly, but it was amended in the Senate, so it will now return to the Assembly for second consideration. The main authors, Democrat Assembly members Evan Low and Lorena Gonzalez Fletcher, argue that voting should be free for everyone. Some counties already pay for postage on envelopes, but many others do not. It is estimated that the measure would have cost around $5.5-million to fund during the 2016 General Election. Counties would be forced to cover the extra costs at least initially, and there is a provision for claiming reimbursement from the state.
If it passes in the Assembly it moves to Governor Jerry Brown for consideration.