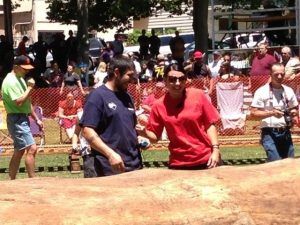 Tuolumne Lumber Jubilee

View Photos
Mother Lode temperatures are likely to top 100 to 108 degrees Friday through Sunday but events planned this weekend will provide shade and drinks. Keep an eye on our community calendar, several Fourth of July events are scheduled the next two weekends as well.
As reported here, the Tuolumne Lumber Jubilee is underway with the parade at 10AM on Saturday. The event listing is here.
Saturday at the Mother Lode Fairgrounds the Come-In-Unity annual event will provide a free dinner for all Tuolumne County First Responders and their families. This includes all personnel from local fire agencies, Ambulance, Tuolumne County Sheriff's Department, Sonora Police Department, California Highway Patrol, CDCR Sierra Law Enforcement, Department of Fish & Game, all Tribal Emergency Services, PHI Air Medical Group, and Adventist Health Sonora Emergency Department. Tickets can still be purchased, details are here.
Saturday is the Strawberry Festival at Copperopolis Town Square hosted by Habitat for Humanity Calaveras. The event will feature live music food, vendors and kids activities. Details in the community events calendar here.
Tuolumne County Amateur Radio and Electronics Society (TCARES) will be joining other Amateur Radio operators (Hams) across the county in a 24-hour contest to make as many contacts as they can in a 24-hour period. They cannot use any public utility for power, they run on generators, solar, or batteries. Location and details are in their event listing here.
All the Saturday events are listed here including the Twain Harte Area Chamber of Commerce's weekly Concerts in the Pines and theater performances.