Columbia College's 'Promise Scholarship' Hits First Mark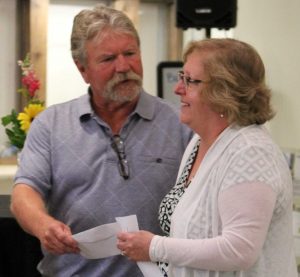 Board President Mark Kraft presents check to Columbia College President Angela Fairchilds

View Photos
Sonora, CA – The Columbia College Foundation has met its funding goal for the first year of the Promise Scholarship, with the addition of funds awarded by the Sonora Area Foundation (SAF).
During a reception held in May to honor retiring Columbia College President Dr. Angela Fairchilds, representatives of Sonora Area Foundation presented a check for $20,000 in support of the Promise Scholarship. It is a three year pilot program being offered for the first time to graduates of Tuolumne County high schools. SAF Executive Director Darrell Slocum details, "The $20,000 is what's remaining for year-one fundraising. So, it puts them over the top for year-one. The total program for the three years was estimated to be at about $360,000; so, about $120,000 for year-one."
The program, which begins this fall, will provide one year of free tuition at Columbia College to eligible graduates who must attend the college full-time immediately after high school, as earlier reported here. Slocum adds, "It's a wonderful opportunity. It's a huge benefit for our community. It's an opportunity for families who may not have been considering college as an option in the past. They can now look at that and regardless of where the student is planning to transfer to maybe they should look at staying at home and going to Columbia College for a couple of years."
Donations to the grant included: Black Oak Casino Resort Community Fund, Comazzi Family Fund, Comcast Community Fund, McMillen Jacobs Associates Community Fund, Boyd Family Fund, Geer Family Fund, Reb and Susan Silay Fund and Sonora Sunrise Rotary. All were matched by a $10,000 donation from an anonymous donor.