Program To Provide Free Columbia College Tuition For Local Students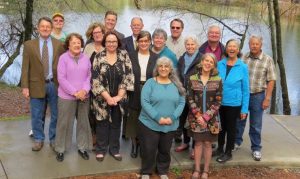 Columbia College Foundation Board Of Directors

View Photos
Columbia, CA — The Columbia College Promise Scholarship program is being launched to remove the tuition barrier for high school graduates in Tuolumne County and portions of Calaveras County.
Effective fall of 2018, the Columbia College Foundation's new program will allow all qualified local public high school graduates to attend Columbia, tuition free, during the first two consecutive semesters, if students enroll immediately after graduation. Students must reside within the Yosemite Community College District boundaries, and be a graduate from either Sonora Union High School District, Summerville Union High School District, Big Oak Flat-Groveland Unified School District, Tuolumne County Superintendent of Schools Alternative Education or Bret Harte High School.
Tuolumne County Superintendent of Schools Margie Bulkin, a member of the foundation board, shares, "The foundation believes that we can cover the expense of the tuition for every high school student that qualifies, and roughly that is between 150-180 students. We hope that this promise will gain momentum and people in our community will see how important it is that we send a message that if you attend and graduate from a local high school, you can attend a college tuition free."
The three year pilot effort will also be available to high school graduates in 2019 and 2020.
Columbia College President Dr. Angela Fairchilds notes that the program will remove a major financial barrier for local students. She adds, "Even though California community colleges are an inexpensive option for quality education, tuition is still is a barrier to many families, especially in rural areas. So, we're doing what we can to help remove those barriers so that everybody gets a chance to come to college, whether it be to work towards transferring to a four year institution, or whether it be training to get into higher paying jobs."
Requirements include students enrolling at a full-time level (carrying at least 12 units) and submitting a FAFSA application (Free Application for Federal Student Aid).
The program next year will come in correlation with Columbia College Celebrating its 50th anniversary.
For additional information on the foundation, click here.