Walmart Shopper Exited Store With Packed Cart And No Receipt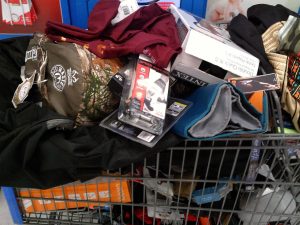 Shopping cart full of stolen items

View Photos
Sonora, CA – A Walmart customers was stopped by staff as he tried to roll a cart full of items out of the store without actually purchasing the products.
The call came into Sonora Police dispatch from a store employee who had detained the shopper outside the exit doors. Inside, the man's cart was stuffed with over $1,000 in merchandise. Once on scene, officers questioned the man who, after two records checks, determined the name and age he had given was false. The suspect was handcuffed and taken to Tuolumne County Jail.
During his booking into the facility, the suspect was finally identified as 20-year-old Noel Figueroa. He was booked for grand theft; obstructing a public officer and three outstanding misdemeanor warrants.
Of note, Figueroa was arrested in March of this year after officers were alerted to a suspicious car up on an embankment in the Sonora High School area with a man passed out inside. Behind the wheel officers found Figueroa, who had fallen asleep while driving and attempting to steal the vehicle, as reported here.