Drunk Man Argues His Way Behind Bars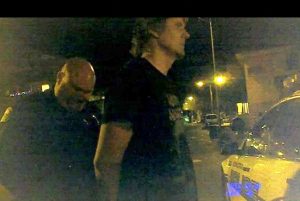 Brian Troxell's arrest outside a downtown Sonora bar

View Photos
Sonora, CA — Pounding on the door of a Sonora bar after closing time, a man told police he had left his debit card inside but that is not where police eventually found it when arresting him.
Sonora Police department received a call from 27-year-old Brian Troxell of Sonora just after 3:00 a.m. Wednesday.  According to dispatch he asked for assistance in retrieving his debit card inside of the Zane Iron Horse Lounge at 97 South Washington Street. Officers pulled up to find Troxell, noticeably intoxicated, beating on the glass door of the darkened closed bar. Officers suggested that he go home and come back in the morning but instead Troxell got heated and began arguing with them. He was handcuffed and arrested for public intoxication. Ironically, Troxell's card was later found in his back pocket.
Of note, as reported here in October, Troxell was arrested at a Sonora apartment complex for making criminal threats and burglary charges after, while looking for his girlfriend, he allegedly pounded on the door and broke into a neighbor's apartment to confronting a man there.