Public's Help Sought To ID Dollar General Burglars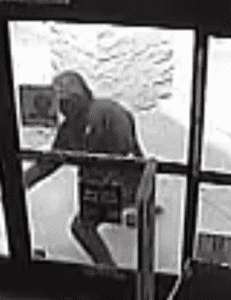 Valley Springs Dollar General Burglary Image Dec 7 2017 CCSO Photo

View Photos
San Andreas, CA – Calaveras Sheriff's officials are hoping someone might potentially be able to identify those responsible for a recent burglary of another Valley Springs business.
As reported here, thieves wearing hoodies who recently shattered the glass doors of the 76 gas station made off with thousands of dollars' worth of cigarettes and lottery tickets. This latest burglary of the Dollar General store on Riley Way, which also targeted tobacco products, similarly involved subjects in hooded sweatshirts who broke out front door window panes.
Investigators say that it was in the early hours Thursday around 3:30 when deputies responded to the Dollar General for a reported burglary. The store manager had arrived at the business to find the glass door in shards. Deputies who checked the premises did not locate any suspects on scene.
However, video surveillance footage recorded two suspects attempting to break the door shortly before midnight. They appeared to be males in their late teens to early twenties. Both wore dark-colored hooded sweatshirts in a manner that attempted to cover their faces.
Once they gained entrance to the store one of the suspects went directly to the locked cigarette cabinet but was unable to access any of the tobacco products inside. Both were seen running down an aisle and stealing a prepaid cell phone before exiting the store, after which they fled the scene on foot.
According to Sheriff Rick DiBasilio an earlier burglary attempt at the same Dollar General less than two months ago resulted in some juveniles being caught in connection with the crime. He notes that tobacco products are popular items among thieves to target given that increased state taxes has made them costlier.
Currently, investigators are asking members of the public to review surveillance images that they are sharing (to view them click into the image box slideshow), taking note of the suspects' clothing, headgear, shoes, and the backpack that one was carrying in this latest break-in.
Anyone who might recognize either or both of the suspects or have information regarding the incident is requested to call the Calaveras County Sheriff's Office at 209 754-6500 or the anonymous tip line at 754-6030.