Second Pot Bust Involving Entire House Used As A Grow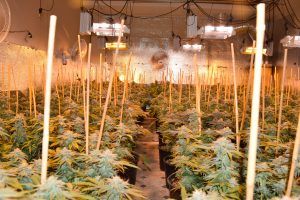 Drug bust Milton Road in Valley Springs

View Photos
Valley Springs, CA – In one day Calaveras County Sheriff's Marijuana Enforcement Team discovered two Valley Springs homes fully converted into pot grows with a total of nearly 3,500 plants seized.
The latest bust from the sheriff's office details a raid on an illegal unregistered grow Thursday at a home in the 10000 block of Milton Road, which was stuff from floor to ceiling with 2,025 plants. Sheriff's officials indicate that the plants varied in size from small seedlings to tall mature marijuana plants. A man at the home, 28-year-old Sian Huang who spoke with broken English and had a New York Identification card, was taken into custody. He faces charges of illegal marijuana cultivation and operating a drug house. His bail is set at $30,000.
Although sheriff's officials say the two busts are not related, earlier that day, another house on Delin Way was found filled with 1,220 plants in all but one room of the home, as reported here. No arrests were made in this incident.