Whole House Converted To Illegal Pot Grow Busted In Valley Springs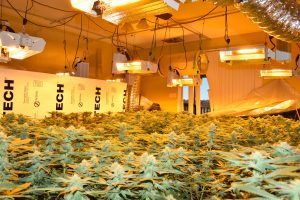 Unregistered Indoor Valley Springs Grow Bust Dec 7 2017

View Photos
San Andreas, CA – Calaveras Sheriff's officials are sharing some details and images of an entire house and garage that was being used for a sizeable illegal indoor marijuana grow.
They report that earlier today, members of the Calaveras County Sheriff's Office Marijuana Enforcement Team (MET) served a search warrant for an unregistered indoor marijuana grow at a residence on Delin Way in Valley Springs. While the team did not find any subjects onsite during the warrant service, officials say they have identified suspects involved with the operation.
Deputies discovered upon their arrival that only one small interior room was being used for living quarters and seized 1,220 marijuana plants along with a large amount of US currency and a vehicle while they were there. To view images taken there. click into the image box slideshow. As it is an ongoing investigation, they say no other details are being released at this time.