Payne Trial Readiness Hearing Slated This Week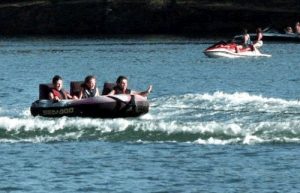 Lake Tulloch Recreation

View Photos
San Andreas, CA – More maneuverings are in play in the case of a Copperopolis man scheduled to be tried in January for allegedly causing grave injuries to two women while boating under the influence on Lake Tulloch.
As reported here, Dean Payne, is still facing a number of related enhanced felony charges stemming from a July 24, 2016 incident during which he was piloting a boat that plowed into two women while they were being pulled in an inner tube by another watercraft.
Back on Oct. 30, Judge Gary Hahn presided over a Calaveras County Superior Court pre-trial conference and at that time a trial readiness conference was set for Dec. 1. At that time a trial confirmation conference was set for Dec. 5 and his jury trial, which is estimated to take ten days, was slated to begin Dec. 6.
However, these dates were vacated after a motion by the District Attorney's Office to extend the court date. Payne's attorney, Ken Foley, agreed to the motion and also reported that Payne would no longer be waiving time. Payne remains free on a bond of over $100,000 and is required to attend all hearings. The new dates for Payne's trial confirmation conference and the beginning of the jury trial were respectively set to be heard by Judge Thomas A Smith on Jan. 9 and 10.
The week before Thanksgiving, Foley subsequently filed a motion requesting that Judge Smith be disqualified from hearing any further proceedings in the case, declaring he was prejudiced against Payne.
According to court officials, a trial readiness hearing is set for this Thursday before Judge Timothy Healy. At this time it is still unclear whether he will rule on Foley's motion or if a decision will be made by him or another judge independent of the date.