Planning Commission Considers Revoking Pet Bath House Owner's Permit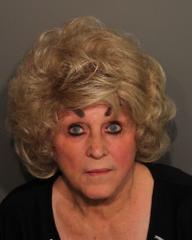 Vonna Hughes, AC Police Photo

View Photos
Angels Camp, CA – The livelihood of a pet services business owner facing multiple felony animal cruelty charges tops tonight's City of Angels Camp's Planning Commission agenda.
As reported here, Angels Camp Police charged Pet Bath House proprietor Vonna Hughes earlier this summer for several crimes relating to the mysterious disappearance of three dogs. They had been under her care for just a few days before she claimed to the owner that they were all "put down," further alleging that she did so due to two alleged dog fights they caused in her kennel facility. However, a Valley Springs kennel facility that had lodged the trio of canines ahead of their boarding at Hughes' business told police the canine trio had stayed there for several months without incident.
Following a "Missing Dogs" flyer campaign, several weeks later, two of the dogs that turned out to have been recovered by Calaveras County Animal Services were returned to their owner; the remains of the third dog, named "CiCi," were located by a utility crew worker. The news triggered what became a highly contentious "Justice for CiCi" protest in front of the 172 South Main Street business that also triggered calls to the City of Angels Camp for an investigation into her business operation.
Back at its Sept. 9 meeting the Planning Commission recommended the CUP be revoked. According to the meeting documents, City Planning & Building Director David Hanham and staff recommend that the Planning Commission either amend or revoke Hughes' Conditional Use Permit (CUP) and sent a letter to the Pet Bath House Sept. 20 regarding the action. They note that there was no response other than her attorney's response to tonight's hearing.
According to staff findings, Hughes failed to meet at least two of the stated conditions of her CUP. First, when investigators reviewed the property they found that there was no longer a separation in the yard for large and small dogs. Secondly, it was determined, based on reports from local veterinarians, that despite her obligation to report injuries to dogs and people at the facility to Angels Camp Police and County Animal Services, numerous incidents went unreported.
There are no public hearings scheduled and the only other matters of business are committee, commissioner's and staff reports at tonight's meeting, which begins at 6 p.m. at the City of Angels Fire House (1404 Vallecito Road).