Amador County Standoff Suspect Connected To Armed Robbery Of West Point Pot Grow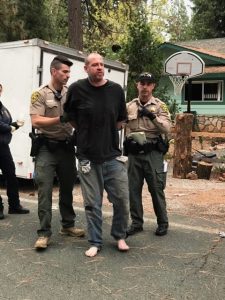 Jamie Mark Buchanan arrest

View Photos
Pioneer, CA – A daylong standoff in Amador County led to one arrest and turned up stolen items from an earlier armed robbery at a marijuana grow in Calaveras County.
On Wednesday, 42-year-old Jamie Buchanan barricaded himself in his Pioneer home on Meadow Drive in Amador County as SWAT team members surrounded the residence while trying to serve a search warrant, according to Calaveras County Sheriff's officials. Sgt. Rachelle Whiting details that during the eight hour standoff SWAT official used several tools to get him to come out including phoning him, a robot, chemical agents, and a K-9 unit. She adds, "Eventually, the SWAT team did go into the home and found him hiding inside. There were firearms recovered both from inside his vehicle and inside the home but he was not found to have any weapons on his person during the time of his arrest."
The search warrant and Buchanan's subsequent arrest stem from an armed robbery at a pot grow on Skull Flat Road in West Point last month. In that incident, 5-6 individuals, some carrying guns, jumped out of two vehicles at the residence and claimed to be law enforcement. The thieves made off with nearly 500 marijuana plants, a large amount of cash, and a black colored Ford F250, as reported here. Detectives reveal that items from that theft were found at Buchanan's residence, but will not release further details as the investigation is ongoing except to say that the stolen pickup has been returned to its owner.
Buchanan faces charges in Amador County of a violent felon in possession of body armor and a firearm. His bail is set at $135,000. Sgt. Whiting indicates that additional charges are pending regarding the robbery and stolen property from Calaveras County.
Investigators are still seeking suspects in the robbery and ask that anyone with information call the Calaveras County Sheriff's Office (209) 754-6500 and ask for detectives or call our anonymous tip line at (209) 754-6030.