Update: Latest On Pass Closures Ahead Of Incoming Weather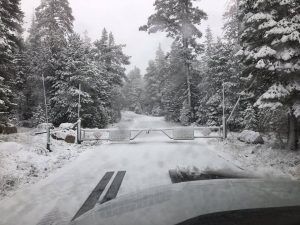 Camp Connell Maintenance Supervisor Mike Johnson's windshield view at the Lake Alpine gate on Saturday, November 4, 2017

View Photos
Update at 2:10 p.m.: Tracking the storm and continuing to assess the weather situation, Yosemite National Park officials maintain they have no plans yet to close the Tioga Road, Highway 120 Tioga Pass.
According to Yosemite spokesperson Jamie Richards, while plans are to keep Tioga Road open as long as possible and to not close it unless it is necessary, it could be shut down at any point if need be, due to inclement weather or hazardous road conditions.
Original Post at 11 a.m.: Sonora, CA — Caltrans officials say the Highway 108 Sonora Pass will close this evening at 11:30 due to the latest bout of wet weather to hit the Mother Lode.
As reported here yesterday, Highway 4 Ebbetts Pass, which did not reopen after last weekend's storm due to icy conditions on the shadier portions of that roadway, remains closed east of Lake Alpine. Officials noted they would be attempting to keep Highway 108 Sonora Pass open as long as possible and this morning a Caltrans message board sign on Highway 49/108 in Jamestown carried the alert about the 11:30 p.m. closure. After storm impacts are assessed officials say they will have a better idea as to when the pass gates for both highways will be unlocked.
So far Yosemite National Park rangers have not made any announcement as to plans for closing Highway 120 Tioga Pass.
Now that winter road conditions are beginning to occur, highway officials urge motorists planning to travel at higher elevations to carry chains and be prepared by packing essentials such as water, food and blankets to use in the event of road closures or extended delays.