Completion Nears On $25.5 Million Highway 120 Bridge Renovations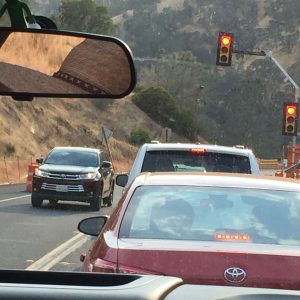 Hwy 120 James E Roberts Bridge photo tour, Sept 11 2017

View Photos
Sonora, CA — By Thanksgiving or sooner, motorists will be free from more than a year's worth of lengthy auto-signal enforced traffic waits at both ends of the Highway 120 James E Roberts Bridge by Lake Don Pedro.
Providing an update on the extensive renovations that were all part of a multi-million-dollar restoration and improvement project, reported in detail here, Caltrans District 10 spokesperson Warren Alford spoke with Clarke Broadcasting. While it is still a bit early for the final cost tally, he confides that due to various cost efficiencies, the job should conclude on time and somewhere in the neighborhood of $25.5 million.
Even better news, he says, is that the total includes a repainting of the bridge, which was not part of the original project scope. That it was able to be done while the construction scaffolding was in place will not only provide budget savings, it will also spare motorists from more delays that would have occurred down the line as crews returned to address that particular chore.
Sharing the latest, Alford notes, "Right now when people are driving across the bridge we still have one-way traffic controls — all of the railings have been replaced so people will see all the brand-new shiny railings — all of the bridge decks have been replaced." Continuing, he points out, "The big remaining item is the polyester surface, which will create a smooth even surface across the bridge, it needs to be laid down and that needs about a week of good weather…not just dry but…also the right temperature."
Crews, he says, are doing everything they can to be ready before the big holiday traveling times ahead towards the end of the month. While optimistic, Alford offers a final comment with a caveat: "As long as Mother Nature cooperates we can expect to have the traffic signals down before Thanksgiving."