Unregistered Guns Popping Up In Calaveras County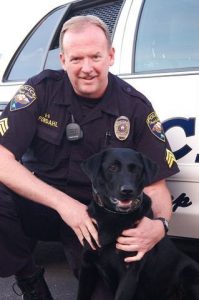 Police Chief Todd Fordahl

View Photos
Angels Camp, CA – A recent disturbing trend has prompted Angel Camp Police Chief Todd Fordahl to turn to the state for help.
He tells Clarke Broadcasting that newer unregistered guns have recently been found during several traffic stops in Calaveras County that also netted arrests and drugs.
The latest incident was Wednesday night when 41-year-old Christopher Friday of Murphy was pulled over on Highway 49 near Carol Kennedy Drive in Angels Camp for not having a front license plate on the Jeep Wrangler he was driving. A records check showed Friday had a suspended license.
Inside the vehicle, police found not only .3 grams of methamphetamine, but uncovered a stolen handgun from a burglary in another county, a second unregistered handgun, two knives, ten syringes, a large rubber band, ammunition, a digital scale, and a marijuana smoking pipe. However, most disturbing on that list were the firearms, according to Chief Fordahl.
He notes, "The proliferation lately it seems of unregistered firearms that are floating around out there is a little bit concerning for me, especially if they are newer and somehow making their way onto the street without being registered, They're getting into the hands of the people that don't have any business having them and that's a big concern."
Chief Fordahl points to two other unregistered Glock guns found in the hands of offenders in the past month. He indicates one was seized by Calaveras County Sheriff's deputies following a drug bust and the other was confiscated by his officers earlier this month along with a pound of methamphetamine, as reported here.
So concerned is the chief he shares, "I personally have reached out to try to collaborate a little bit with the California Department of Justice Firearms Division to get their help in determine where these guns are coming from and shut down the trafficker."
Regarding the arrest of Friday, he faces drug, possession of known stolen property and eight felony firearms-related charges. Additional details regarding the stolen gun are not being released at this time, according to Chief Fordahl.