New Time For Groveland Bike/Pedestrian Path Meeting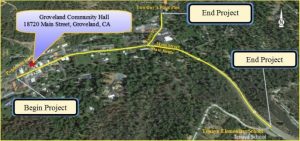 Proposed Groveland Bicycle and Pedestrian Improvement Project

View Photos
Groveland, CA – Caltrans has agreed to a community request to push up the presentation on the Bike/Pedestrian Path project along Main Street in Groveland so that residents can get home earlier.
As reported here last week, the meeting is being hosted by Caltrans and the Tuolumne County Transportation Commission to discuss a potential project that would improve safety and efficiency for motorists, cyclists and pedestrians under the state's Active Transportation Program. The original time for the presentation had been set for 5:30 p.m. on Thursday with the gathering starting at 5 p.m. Instead, due to public feedback concerned about the 7 p.m. end time, both the presentation and discussion will now start at 5:00 p.m. with a new end time of 5:45 p.m. The meeting remains located at the Community Hall at 18720 Main Street in Groveland.
As the map in the image box and pictured larger in the linked story above shows, the proposed project would span 1.2 miles along Main Street/Highway 120 from Ponderosa Lane to Tenaya Elementary School. It would widen the street to add bike lanes, curb ramps, new sidewalks and crosswalks. The effort would also improve and close gaps for pedestrian pathways within the project limits.