Tuolumne County High Speed Chase Ends With Arrest In Oakdale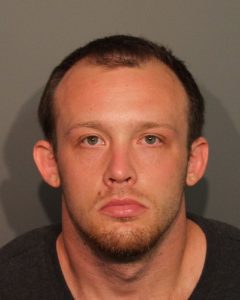 Ryan Ashlock

View Photos
Oakdale, CA — A vehicle stolen out of Modesto was spotted early this morning in Tuolumne County and the driver led law enforcement officials on a high speed chase that went through Tuolumne, Sonora, Jamestown and eventually Oakdale, where the driver was taken into custody by the CHP. Officer Faustino Pulido notes that the suspect is positively identified as 28-year-old Ryan David Ashlock of Angels Camp. He faces charges of vehicle theft, reckless evading, possession of stolen property, resisting arrest and assault with a deadly weapon.
Officer Pulido notes that at one point Ashlock intentionally struck a Tuolumne County Sheriff's Deputy's patrol car. The chase started at around 3:30am and he was captured at around 4:20am with the help of a spike strip deployed on Highway 108 near Wamble Road. Despite hitting the strip, Ashlock continued to drive the vehicle on some residential roads in Oakdale, before jumping out and briefly trying to flee on foot. Officer Pulido adds that Ashlock reached speeds of 80 mph on Highway 108 and at times drove in the opposing traffic lanes.
Ashlock was also in the news this past October in relation to a drug bust in Angels Camp. Click here to view the earlier story.