K-9 Sniffs Out Drugs During Traffic Stop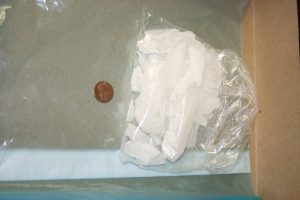 Methamphetamine found in bust

View Photos
Angels Camp, CA – A police dog alerts officers to drugs during a traffic stop, which led to another narcotics bust at an Angels Camp home.
Three people in all were arrested with  transportation and sales of drugs listed as some of the charges. The initial arrests came after an Angels Camp Police Officer pulled over a Dodge Durango with a male and female inside on Gun Club Road off Highway 49 for expired plates and false registration just after 11 a.m. on Wednesday. A K-9 sniffed around the vehicle and detected drugs. During a search of the SUV officers found about a quarter pound of crystal methamphetamine, nearly 3.5 grams of marijuana, a metal billy club, a methamphetamine pipe, straws and a razor blade.
The pair, Ryan Ashlock, 27, and Sarah Tate, 43, both from Angels Camp were arrested. Further investigation tipped officers off to a home in the 300 block of South Main Street in Angels Camp. Once again the K-9's nose uncovered around 1.8 ounces of methamphetamine, digital scales, plastic baggies and pipes. Additional interviews led to another woman, Janice Barton, 45, from Angels Camp who was arrested on Friday. Barton and Ashlock face felony drug charges while Tate had two misdemeanor Amador County warrants.
Police note that more arrests could be forth coming as the investigation continues.