Missing Father's Remains Recovered From Stanislaus River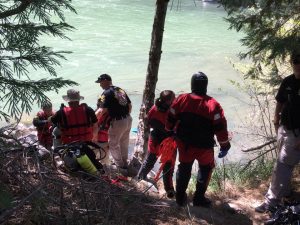 Multi-agency recovery Aug 15 2017 following missing camper incident near Tri-Dam Powerhouse July 18

View Photos
Sonora, CA – Through a multi-agency team effort the remains of a man who tragically went missing were successfully located and retrieved from the Stanislaus River below the Tri-Dam Powerhouse.
According to Tuolumne County Sheriff's spokesperson Sgt. Andrea Benson, her office's Search and Rescue Team along with the Stanislaus County Sheriff's Dive Team, Mobile Field Force Unit and Aero Squadron were yesterday able to safely re-enter the river in search of Robert Bass III, 32, of Hickman. Shortly before 1 p.m. swift water and dive teams found and recovered his body. Sgt. Benson adds that the official cause of death will be determined by autopsy.
As previously reported here, Bass had been camping with his son at Crandall Peak OHV Park in Strawberry on July 18 and the pair had been heading back to their campsite when Bass reportedly climbed a section of fence that did not have razor wire on it, perhaps looking for a shortcut. Assuming that he fell into the river at that location, officials estimated it would have been a 30-foot drop. It was the last time his son reported seeing his father, who he waited for back at their camp site into the following day. Dangerously high river levels created challenges and safety concerns for dive teams to proceed too far down the river, requiring coordination with Tri-Dam to help slow the flows.
The Tuolumne County Sheriff's Office note with thanks the assistance it received from the Tri-Dam partners, PG&E and the Stanislaus County Sheriff's Office throughout the planning and completion of the search, also sending deepest heartfelt condolences to Bass's family and friends.