Additional Apprenticeship Programs On Horizon At Columbia College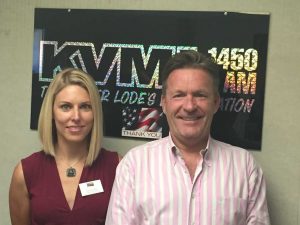 Amanda Hepfl and Dr. Klaus Tenbergen

View Photos
Columbia, CA — There are more opportunities in the near future for students to gain first hand job experience via Columbia College's Apprenticeship Initiative.
We reported in 2015 that the college received $960,000 in grant funding to begin a program with Black Oak Casino Resort and the Evergreen Lodge/Rush Creek Lodge. 28 apprentices started hospitality management courses at Columbia, with on-the-job training, this past January. Most of the tuition and fees, and some of the material costs, are covered by the state grant. Apprentices complete 2,000 hours of paid on-the-job training, as well as 288 instructional hours of hospitality management courses over a two year period.
Additional funding has been secured by Columbia to start similar programs in the fields of Child Development and Automotive Technology. Columbia College Dean of Career Technical Education and Economic Development, Dr. Klaus Tenbergen, and Columbia College Program Specialist, Amanda Hepfl, will speak about it on Mother Lode Views this weekend. They will also talk about other general challenges students face entering the workforce.