Empire Fire Grows To 750 Acres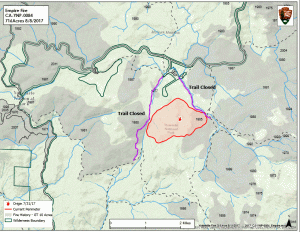 Empire Fire In Yosemite

View Photos
Yosemite, CA — The lightning caused Empire Fire in Yosemite National Park continues to gradually increase in size.
It ignited on July 31 and has grown to 750 acres. The fire is being managed by park officials so that it can burn out naturally. It is situated one mile south of Bridalveil Campground and east of Alder Creek. The fire is burning in heavy pockets of dead and down timber. It is expected to continue to grow along the northeast and southeast flanks.
The National Park Service reports that trails are closed from Bridalveil Creek Campground to the first junction with the Ostrander trail. Additionally from Westfall Meadow, to the Deer Camp junction, along Alder Creek, remains closed. There are no threats to infrastructure at Bridalveil Campground and the remainder of hiking trails in the area remain open at this time.
The fire has been putting off drift smoke in the area.
Click Here To View A Map Of The Empire Fire