Calaveras Sheriff Addresses Alleged 'Misuse' Of Cannabis Funds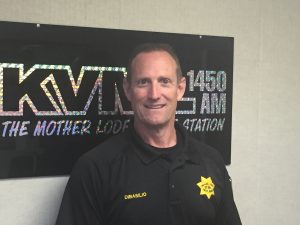 Sheriff Rick DiBasilio

View Photos
San Andreas, CA — Allegations of cannabis grower fees "misspent" to pay for criminal investigations into illegal grows has drawn the ire of Calaveras County Sheriff Rick DiBasilio, who today issued a statement.
As reported here earlier this week, the criticisms surfaced in some recent media coverage that followed last week's Operation Terminus press conference held to explain a newly launched multi-agency alliance that is cooperatively investigating illegal grows within the county as environmental crimes. Late Tuesday afternoon the sheriff, county supervisors and other officials met in closed session specifically to address the issue.
Today, Sheriff DiBasilio released the following public letter…
To the Citizens of Calaveras County;
I would like to address the issue recently in the press and community regarding the Calaveras County Sheriff's Office use of funds for the eradication of illegal commercial marijuana growing operations.
This Sheriff's Office is dedicated to following the law regarding the use of funds. We are aware of the concerns raised by the use of certain funds for eradication activities, and have been in useful negotiations to resolve differences in the interpretation of applicable law.
Today, the issues raised have been addressed and resolved by this office, the Board of Supervisors and County Counsel.
Any further comments will be discussed at the Board of Supervisors meeting on August 22nd.