Summer Gas Prices On The Rise Ahead Of Aug. 21 Eclipse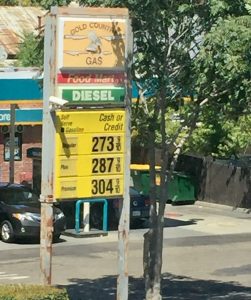 Sonora Gas Sign, Aug 9 2017

View Photos
Sacramento, CA – Whether road-tripping or summering in place Californians this month are paying an average of three cents more per gallon than last month as August prices begin to rise across the country. Locally, the prices are also trending up.
According to AAA Northern California, which yesterday took a snapshot of pump prices around the Golden State, the average price recorded was $2.96 for a gallon of regular unleaded. Drivers in other states on average are paying $2.35 – which is nine cents more than in July. Last month, as reported here, depending on where you were filling your tank, Mother Lode drivers were enjoying some unexpected savings.
AAA spokesperson John Moreno notes this season's price jump is coming later than usual and that Californians are paying more than drivers in every other state but Hawaii, where the price per gallon is also near $3. While the per-barrel price for crude oil has also incrementally increased since July it is still running under $50.
He attributes this month's fuel cost increase to more travelers on the road, adding that West Coast refineries are producing more, anticipating a surge of tourists for the much heralded Aug. 21 eclipse that has spawned numerous viewing-related events, activities and travel packages, especially in the areas of the sky-watching path in the states of Oregon, Idaho and Washington.
Prices in South Lake Tahoe, at $3.19 per gallon are the highest in the state, although six cents less than last month. Sacramento and Bay Area prices are respectively up by four and three cents.
Locally, in Sonora, prices are trending slightly higher, running from $2.67 to $2.96 per gallon. Last month the range at this time in Sonora ranged from $2.65 to $3.09; in San Andreas, between $2.79 and $2.85. To view the latest prices reported at various locations around the region, view myMotherLode.com's Gas Prices list here.