Update: Twist Fire Is 60-Percent Contained, One Evacuation Area Opens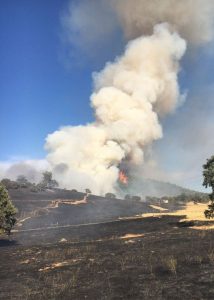 Twist Fire, July 31 2017, CAL Fire

View Photos
Update at 6pm: CAL Fire officials now say the Twist Fire is 60 percent contained at 123 acres, adding that the size estimate was reduced due to better mapping of the area.
Tuolumne County Sheriff's spokesperson Sgt. Andrea Benson reports the evacuation advisory notice for the north side of Algerine Road has been lifted as of 5:45 p.m. Until her office officially hears from CAL Fire as to the safety of the evacuation areas all other mandatory and advisory notices issued earlier remain in place.
Update at 12:45pm: CAL Fire reports the Twist Fire is up to 50-percent containment. Islands of un-burned fuels may continue to flare up this afternoon. The size estimate remains 180 acres.
In the past week, the CAL Fire Tuolumne-Calaveras Unit has responded to 17 fires which have burned 932 acres.
Update at 11:50am:  The latest size estimate on the Twist Fire remains 180 acres with 15-percent containment, according to CAL Fire.
CAL Fire spokesperson Lindy Shoff reports that there are around 15 engines assigned to the incident in addition to CAL Fire Air Attack, two helicopters, and other resources.
Nothing has changed in regards to yesterday's mandatory and advisory evacuation notices issued for homes near the fire. See below for more information.
Original story posted at 7:25am: Jamestown, CA — Firefighters will continue to put up an aggressive fight today battling the Twist Fire near Jamestown.
The fire ignited Sunday afternoon on Twist Road, south of Algerine Road. CAL Fire reports this morning that it is 180 acres and 15-percent contained. At least one home has been destroyed. Mandatory evacuation orders are still in place for Twist Road, the south side of Algerine Wards Ferry Road and east of Twist Road. Advisory evacuations have been issued on the north side of Algerine Wards Ferry and Richards Ranch Road.
The Mother Lode Fairgrounds is serving as an emergency shelter. Animals are also being housed at the fairgrounds, but they must be taken care of by the owners. What ignited the fire remains under investigation.
Click here to view a story detailing the fire's progression from yesterday.