A New Attraction For Tourists In Tuolumne County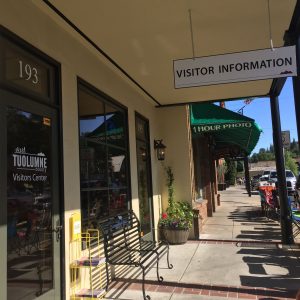 Tuolumne County Visitors Bureau new office in downtown Sonora

View Photos
Sonora, CA – There is a new site travelers will definitely want to check out when visiting Tuolumne County.
Friday the ribbon was cut to officially open the Tuolumne County Visitors Bureau office at its new location in downtown Sonora. Executive Director Lisa Mayo excitedly shares, "This is great! We are so happy to be in downtown Sonora now."
The new office is full of information that includes videos, pamphlets and staff ready to offer up all that the county has to offer. Regarding the new digs Mayo notes, "We wanted it to have kind of a natural feel but also incorporate the colors of our new logo. We just want people to feel comfortable and welcome. We want to have a great environment for people to work in and I think we've accomplished that."
The bureau will be open seven days a week with three full time and five part-time staff. Mayo says being in the heart of Sonora at the intersection of South Washington Street and Stockton Road is definitely a plus as the office can be seen easily from all directions. She adds, "We're getting the foot traffic in and a lot of people that are coming to downtown. We're hoping that we are a draw to the downtown as well. Just getting some of the locals in here too, which we've seen a lot of that already. So, that's been great."
As reported here earlier this week, it is National Travel and Tourism week and a new report shows California and the Mother Lode got an economic boost from visitors in 2016.