Tuolumne County Tourism Brings $230 Million To Local Economy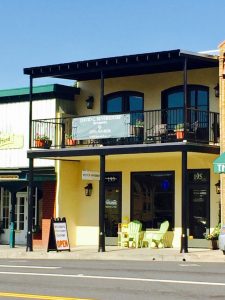 Tuolumne County Visitors Bureau's new location in downtown Sonora

View Photos
Sonora, CA — Industry officials say a sign of the continuing economic recovery in the Mother Lode is tourism spending, which reportedly rose by 3.7 percent from the previous year and helped create 60 new related jobs.
Visit California on Monday released a report by Dean Runyan Associates that figures over the course of 2016 visitor spending in Tuolumne County supported 2,340 jobs and generated $17.5 million in state and local tax revenue, creating an overall $230 million economic impact.
Compared to the previous Runyan 2015 figures released for Tuolumne County last year (reported here), that is a 3.7 percent uptick in travelers and nearly 4.8 percent more in local and state tax receipts. Job-wise, the local tourism sector increased its workforce by over 39 percent from the previous year.
More Dollars = More Choices For All
As Tuolumne County Visitors Bureau Executive (TCVB) Director Lisa Mayo points out, "Tourism continues to grow…and therefore we see the expansion of businesses that cater to both visitors and residents alike. Without tourism, many places that we — as locals like to go — like restaurants and specialty shops could not be supported by residents alone."
Mayo attributes TCVB's strategic approach to marketing the county's spectrum of attributes and attractions to domestic and international markets. She says theses efforts are particularly well leveraged in tandem when partnering on long-term multi-platform marketing programs with large organizations like San Francisco Travel and Visit California. "I think that we are doing great…have a lot of marketing programs in place that we continue to expand on and grow so we are getting wider…and newer audiences as well coming in so I think we are doing a great job of using our resources," she enthuses.
Statewide, study officials reports that tourism brought a record $126.3 billion to the California economy, supporting more than one million jobs. 2016 marked the seventh straight year of growth for California's tourism industry, according to Visit California President and CEO Caroline Beteta. In fact, she states, "California out-indexed the U.S. last year in visitor spending by almost an entire percentage point."
New Visitor Center Doing Brisk Business
TCVB's recent headquarters move from Stockton Street to the growing Sonora mix of restaurants, retail stores and services in the heart of downtown Sonora at the intersection of Stockton and South Washington streets, Mayo says has exponentially increased foot traffic from locals as well as visitors. "I think [people] are spotting us better — we have better signage and it is wonderful — we can point [visitors] to a lot of hotels right within the block for people who have not made their reservations yet," she says happily.
As part of California Tourism Month and in tandem with the Mother Lode Round Up, TCVB will hold its official ribbon cutting of its new downtown digs on Friday from 3 to 5 p.m. The event is free and open to the public.
Too, on May 24 the bureau hosts its third annual Tourism Summit at Best Western PLUS Sonora Oaks, where attendees will have the opportunity to learn more about how the TCVB promotes tourism and tourism spending in the county. Interested members and nonmembers can get more details by calling 209 533-4420.