Sonora Man Arrested for Attempted Murder And Kidnapping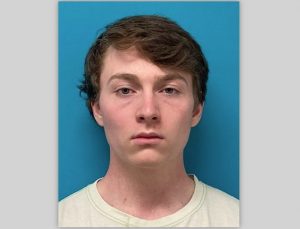 Jacob Chapman

View Photo
Sonora, CA– Sonora Police Department officers and an ambulance responded to a report of a kidnapping victim with major injuries in the area of Shepherd and Lyons Street on Friday, March 10th, just before 6:00 am. The victim was rushed to the hospital while Tuolumne County Sheriff's deputies were called in to take over the investigation. Detectives from the Tuolumne County Investigations Division were also dispatched to continue the investigation.
The victim told detectives that she was kidnapped and assaulted by 20-year-old Jacob Chapman of Soulsbyville the previous night. The victim gave Chapman a ride to his home near Red Heather Drive when he suddenly attacked her, striking her multiple times in the head with a flashlight. Chapman held the victim against her will and prevented her from escaping. He allegedly threatened her with a gun and forced her to drive to multiple locations, demanding her bank account information under threat of death. Chapman continuously bound the victim's wrists and ankles with duct tape, leaving her tied up in the vehicle at various locations. The victim managed to escape and flagged down a community member for help. Detectives later confirmed that Chapman was armed with a firearm and may have been dropped off near the bathrooms of Columbia State Park.
Due to the severity of the crimes, a protective sweep of the Columbia area and state park was conducted by deputies and additional personnel. A stolen 9mm Smith and Wesson pistol was also recovered from the vehicle that dropped Chapman off at the park. Detectives authored several warrants and searched for Chapman at multiple locations throughout the day and night. A story covering that can be found here.
On Saturday, March 11th, around 10:30 pm, Chapman turned himself into the Sonora Police Department. Deputies arrested Chapman and transported him to the Dambacher Detention Center where he was booked on charges of attempted murder, kidnapping, robbery, assault with a deadly weapon, criminal threats, and brandishing a firearm.
The Tuolumne County Investigations Division urges anyone with information about this incident to contact Detective Hammell at 209-533-5815.