Band Review Honors Restivo's Legacy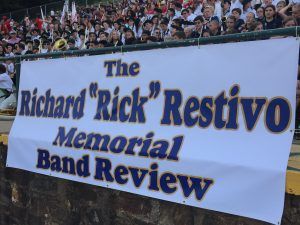 2017 Band Review
Sonora, CA — From now forward, the Tuolumne County Band Review will be known as the Richard "Rick" Restivo Memorial Band Review.
There was a packed house at Dunlavy Field on Wednesday evening for the popular yearly tradition leading up the the Mother Lode Roundup. At the opening of the night it was announced that the event has officially been renamed in honor of the late Rick Restivo, who taught music and drama at local schools for over 30 years. The event featured bands from Curtis Creek, Soulsbyville, Jamestown, Chinese Camp, Twain Harte, Columbia, Sonora Elementary, Foothill Leadership Academy, Summerville High and Sonora High.
Towards the end of the evening the Sonora and Summerville high bands came together to play "Carry On Wayward Son," followed by the elementary honor band students joining the high schools to perform "We Didn't Start The Fire." The night concluded with a moment of silence in honor of Restivo, and the Sonora High band playing Taps in his memory.
The band review was created by the Tuolumne County Sheriff's Posse and former Sonora High Band Director Pat Sieben, as way to celebrate the local bands that will be performing in the Saturday roundup parade.
You can click on the image box to view a variety of photos from the event, and the video shows the joint performance of Sonora and Summerville.
The Sonora Area Foundation also notes that a fund has been created by Rick Restivo's family in honor of his memory, and the money received will go towards a music scholarship.
The next Roundup activity will be the Calcutta at 6:00 PM this evening at the Sheriff's Posse Grounds in Jamestown. Click here for more information.