Explosive Tactics Used To Reopen Highway 26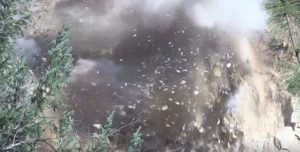 HWY26 blasting by Caltrans
West Point, CA — Caltrans has released dramatic video of crews blasting through hazardous rocks to get a stretch of Highway 26 in Calaveras County reopen last month.
As earlier reported here, due to a winter storm the roadway experienced a washout and rockslide in a matter of two days in February forcing a three mile stretch of the highway to be shut down between Higdon Road and the North Fork Mokelumne River Bridge in the West Point area. While making repairs to the roadway, heavy equipment operators at the rockslide site experienced a small amount of falling debris from overhead and determined that a controlled explosion was necessary to remove this debris, according to Caltrans officials.
Caltrans reports that emergency contractors used about 20 pounds of explosive materials to blast the rocks away allowing work to resume.  A video of the controlled explosion can be viewed in the image box.  Additionally,  workers also discovered a small sinkhole between the two rockslide sites that led to the replacement of a culvert pipe nearly 40 feet below the surface.