Citizens For Responsible Growth Planning To Sue County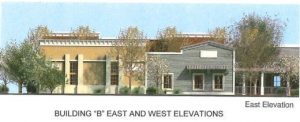 Stone Mill Center

View Photos
Sonora, CA — Tuolumne County has received notice that the group Citizens For Responsible Growth is planning to file a lawsuit over the planned Stone Mill Center project.
It is the second time in the past four years that the group will file a lawsuit trying to slow development at the Pedro Wye. In July of 2013 the group filed a suit challenging the environmental review of a planned apartment complex.
Thursday afternoon the county received a letter from attorney Donald B. Mooney, on behalf of Citizens For Responsible Growth, notifying of the intent to file an environmental lawsuit challenging the county's approval of the Stone Mill Center's mitigated negative declaration and site development permit. The Citizens group is led by President Barbara Farkas.
The proposed development would consist of three commercial buildings totaling 15,933 sq. ft. A notable tenant would be Sonora Regional Medical Center's prompt care. The project was approved by the planning commission in January and later appealed to the Board of Supervisors. On April 4, the supervisors voted 5-0 in favor of the Stone Mill Center.
The county counsel's office is anticipating formally receiving the lawsuit within the next couple of days.
Ron Kopf, project consultant for the Stone Mill Center, has authored a new myMotherLode.com blog entitled, "Citizens for Responsible Growth Sues Again." He writes, "The lawsuit sends a very negative message to businesses looking to develop in the Columbia and Tuolumne County area which negatively impacts our available services, job growth, retention of our work force, housing availability and affordability and the cost of those future services."
You can read the blog by clicking here.