Lowe Shines But Misses Out On The Next Round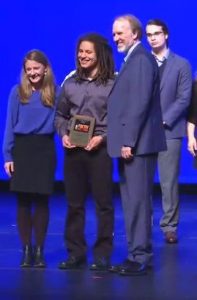 Levi Lowe receives National Poetry Out Loud participation-plaque in D.C

View Photos
Washington D.C.  — The National Poetry Out Loud Semi-finals completion was held in Washington D.C. Tuesday night and Sonora High School Senior Levi Lowe represented all of California proudly.
Lowe competed against 53 students from across the country. The students were put into three regional groups. A lot of Mother Lode residents were able to watch the competition, which was streamed live through a National Endowment of the Arts webcast on their website.  Lowe competed in Region 3 against seventeen students where eight where chosen to move on.  Unfortunately, he was not one of them. The eight were then whittled down to three who head to the final round.
As previously reported here, Lowe won the statewide high school competition on March 13. This was his second trip to the nation's capitol, after reaching the finals as a sophomore two years ago.
Before his group's finalists were chosen all the participants received a plaque for their participation, which can be seen in the picture in the image box. The Poetry Out Loud National Finals are Wednesday from 7 to 9:15 p.m. (EST) and can be views at the National Endowment for the Arts website or by clicking here.
The organization provided this final list of students who advanced to the finals:
Region 1:
Rose-Darla Pascal (MA) Randolph High School
Amos Koffa (NJ) Burlington County Institute of Technology
Iree Mann (NY) Syosset High School
Region 2
Samara Elán Huggins (GA) Whitefield Academy
Mariah L. Brooks (IL) Springfield Southeast High School
Emily Bauer (MO) Parkway West High School
Region 3
Nicholas Amador (HI)
Punahou School
Anna Kochevar (MN)
Arcadia Charter School
Madison Lukomski (SD)
Lincoln High School