Lowe Excited For National Poetry Out Loud Competition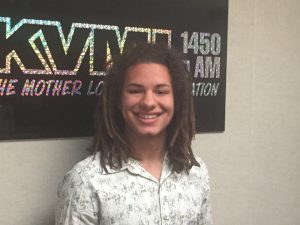 Levi Lowe

View Photos
Sonora, CA — Sonora High School senior Levi Lowe is preparing to head out to Washington, DC to participate in next week's Poetry Out Loud national competition.
After winning the statewide high school competition on March 13, he and 52 other students will now compete for the top prize in the nation.
Lowe competed as a sophomore in 2015. He tells Clarke Broadcasting, "I'm really excited because the people there are extraordinary individuals. The competition itself is so exciting because you expect or hope everyone there to be interesting, or enthralling with their poems. When I was there sophomore year there were definitely some individuals that just exceeded, and it was amazing to watch them. You can see the time they spend with their poetry, and the understanding. It's amazing, and that's what I'm excited to see."
Lowe notes that one of the highlights two years ago was joining some of the other competitors at the Lincoln Memorial for somewhat of an impromptu poetry recital.
Lowe selected three poems for this year's competition. They are Death of Allegory by Billy Collins, Chorus Sacerdotum by Baron Brooke Fulke Greville and Self Inquiry Before the Job Interview by Gary Soto.
A live webcast of the entire national competition will be available by clicking here. The Tuolumne County Arts Alliance reports that a local viewing party is scheduled from 2-5pm, Tuesday, at the Sonora High School Library for the semi-finals. If Lowe is one of nine to transfer to the finals, a second viewing party will be Wednesday at 4pm in classroom C3.