Vietnam Vet Looks Forward, Not Back, Funding Vet Shuttle Project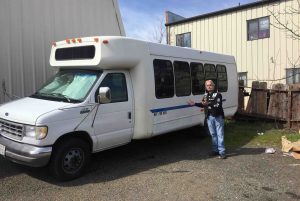 Russell Carpenter of Sonora Vets Helping Vets, shows off the shuttle van that is part of a fundraising campaign.
Sonora, CA – Across the country governments and veterans groups are already or preparing to commemorate Welcome Home Vietnam Veterans Day this week.
However, Russell Carpenter, who served in 'Nam and is classified as a 100 percent disabled vet is far from idle — or nostalgic in acknowledging March 29, the official day commemorating the service of vets from his era. Instead, the founder of Sonora Vets Helping Vets is busily hawking his latest endeavor, a van to shuttle local disabled vets to events and activities.
For the past three years Carpenter has been the mastermind behind the Sonora Vets Helping Vets thrift store, whose proceeds help fund local vets' support activities. To that end, as reported here, he formed a nonprofit 501 C 3 — and last year opened an impressively well-equipped center across from the thrift store for service folks and their families to chill out, socialize and make use of numerous free amenities. Veterans can also share personal stories in "civilian-free zone" areas. Among the recreating spaces are lounge and rec rooms with TVs, a gym and bandstand with instruments and internet-equipped workstations.
Opportunity Knocks For Vet Group Needing A Transport Van
Funding from the thrift store, a couple of grants from Sonora Area Foundation and various small, spontaneous donations cover operational costs under Carpenter's frugal, enterprising watch. Always on the lookout for opportunities, Carpenter says it was about a month ago when the opportunity arose to acquire a shuttle van at a deal. Recognizing it would be ideal for transporting vets to various programs as well as special events that the center was getting group tickets for, he set up a gofundme page. The shuttle van owners agreed not only to sell the vehicle for $5,000, roughly half the price they might otherwise get, but to hold it until enough was raised to complete the purchase.
Earlier Tuesday the page indicated that about $590 was in the coffers. Enter Maynord's Recovery Center, whose director, Shana Wren, spied the campaign online and informed Clarke Broadcasting that the center is donating $1,000 towards the effort — and is additionally challenging other local businesses to give what they might in the name of helping local servicemen and women.
In Carpenter's estimation, Sonora Vets Helping Vets may be a unicorn of sorts, since centers like his are generally government-run. "You know, 40 or 50 years ago there were no centers for Vietnam vets," he points out, matter-of-factly. While he confides that many of his contemporaries may tend to suffer the effects of post-traumatic stress alone, those who served in more recent wars seem to appreciate opportunities for comradery and do take advantage of center resources and programs that include movie nights, monthly hikes and playing and recording music.
The center itself, located at 14356 Cuesta Court, is open Monday through Saturday from 10 a.m. until 4 p.m. Music-wise, the bandstand is busy at least three days a week. Monday is dedicated to open mic country and bluegrass; Wednesday the theme is rock and blues. On Tuesdays the "house band" jams beginning at 11 a.m. "Anybody is welcome to come in and watch — we don't mind having an audience," Carpenter jokes.