A Busy Caltrans Week, Beginning March 27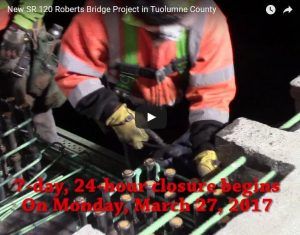 James E Roberts Bridge Weeklong Construction Closure Mar-27-2017
Sonora, CA — This week, a well-telegraphed week-long closure of a Mother Lode bridge is just the tip of a massive Caltrans workload.
This significant closure, as reported here, was rescheduled due to last week's wet forecast. So beginning Monday morning at 5 a.m. the Highway 120 James E Roberts Bridge by Lake Don Pedro will remain entirely closed to traffic until the following Monday, April 3 at roughly the same time. This is due to major construction activities that will be taking place there 24/7 all week as part of an extensive Caltrans repair and replace project. (Click the video link in the image box for an onsite update.) Plan plenty of time for accessing the workaround route, marked with detour signs.
Overnight guardrail work continues, delaying traffic for up to ten minutes at a time at various spots Monday through Friday nights this week. Look for it setting up between 7 and 9 p.m. and remaining in place until 6 or 7 a.m. the following morning in the following locations: Highway 108/49 between Harvard Mine Road and Mill Villa Court; Highway 108 between Yosemite Junction and the Old Wards Ferry overcrossing; Highway 108 between east of Soulsbyville Road and the county dump road; also Highway 108 in Twain Harte between the passing lane and Twain Harte Drive.
Other Tuolumne Traffic Delays
Shoulder work on Highway 49 near Jamestown, between Highways 120 and 108 from Monday through Thursday is slated 8:30 a.m. until 3:30 p.m., possibly generating ten-minute delays. On Highway 49 between Highway 120 and Bear Valley Point, drainage work, planned Monday through Thursday from 8 a.m. until 4 p.m., may also bring temporary travel hiccups.
Slope clearing activities are still underway along Highway 120 between Forest-Packard Canyon Road to the South Fork Tuolumne River bridge every weekday from from 7 a.m. until 5 p.m., with ten-minute travel impacts possible.
Tuesday through Friday on Highway 120, crack seal pavement work, focused between Rushing Hill Lookout and Green Springs roads from 8:30 a.m. until 5:30 p.m., may also set motorists back a few minutes.
Calaveras Cones Zones
Along Highway 4 in Arnold, every weekday between Willow and Henry streets, utility crews, slated to work from 7 a.m. until 7 p.m. may wreak ten-minute travel delays.
For a few more weeks Highway 26 remains closed in both directions between Higdon Road and the North Fork Mokelumne River Bridge, just west of West Point, as extensive road repairs continue to restore the stretch after winter storm damage.
At this point, it is estimated the road may reopen April 14. In the meantime detours generally take up to an hour. The eastbound route is northbound Highway 49 to eastbound 88; westbound, the workaround is Highway 88 and southbound Highway 49 back to 26.