Mother Lode Fair Board Names New CEO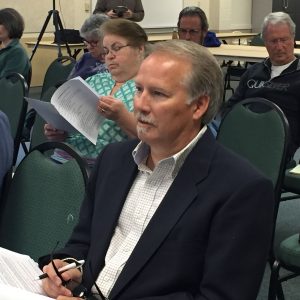 New Mother Lode Fairgrounds CEO Kenneth Alstott
Sonora, CA — After a tumultuous past year where the past fair manager resigned in a controversial fashion, a new leader is taking the reins.
At its Wednesday night meeting, the Mother Lode Fairgrounds Board of Directors, in a unanimous vote, approved the hiring of events manager Kenneth Alstott as the new Chief Executive Officer. He will replace former CEO Stacey Dodge, a Tuolumne County native that, as reported here, resigned  this past summer from the post following a very public fallout with some board members. Alstott knows of the past unrest but told Clarke Broadcasting, "I saw that they [Mother Lode Fairgrounds] didn't have a lot of money. There are a lot of projects that need to be done around the fairgrounds but I really believe that with the community involvement that there was a hidden gem here."
Alstott is from the San Bernardino area. His background includes twelve years of fair CEO experience with eight managing the San Bernardino County Fair and up until April of last year as head of the Cow Palace in Daly City in the Bay Area. He also served four years in the military and 20 years in law enforcement; most recently with the San Bernardino County Sheriff's Department working investigations and as part of the K-9 unit. All that experience he says makes him ready for this new task, stating, "My goals are not only to unite the board but listen to the community and their input in it. We need to remember that the community is always that tenth board member. So, we value their opinion and their views on things. I don't see any issues going forward. I think everyone is excited about this. We're just looking forward to getting going."
A sentiment echoed by Board President Missy Marino indicated it was "a big sigh of relief." She indicated the board was glad to be moving forward with this positive change as Alstott really stood out during the interview process, adding, "He was very thorough. He was very organized. He asked us questions about the job that we hadn't thought about…He was right on it and we knew that he was the man to get us out of the situation that we've been in…We want our fair to be more successful and he has some great ideas."
Alstott also notes his background is as a project guy and experience with non-profits and foundations. His work with district agricultural associations has given him knowledge regarding state rules and regulations as well. He will be under contract with a salary not to exceed $24,200 for the remainder of 2017. (Click here for other contract details.) Alstott shares that his schedule will be intermittent, several days every other week but that he will be available 24/7 as he will commute from southern California.
With the Mother Lode Fair about 15 weeks away he says he is not worried as the board has already done much of the leg work. As for possible changes to the fair next year he shares, "Bull riding, demolition derby, monster trucks, we're going to look at the gates, the numbers, the costs to produce those types of things and then make a decision from there. For this year's fair I think we'll just generally take a look and see how things run and see how the community responds to it and then get their feedback and then look to make those changes."
Alstott will hit the ground running as his first day on the job is Thursday.