Poll On Commercial Cannabis In Calaveras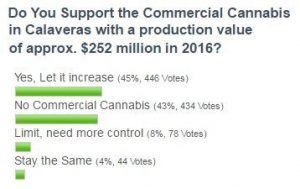 MyMotherLode Poll Commercial Cannabis

View Photos
After a report was released estimating the impact of commercial Cannabis in Calaveras county a MyMotherLode poll asked: Do You Support the Commercial Cannabis in Calaveras with a production value of approx. $252 million in 2016? The three and a half day poll received over one-thousand votes with the most votes (46%) in support of letting commercial cannabis in Calaveras increase. Close behind with 43 percent of the votes was the opposition voting No, Commercial Cannabis should be allowed. Only eight percent wanted limits to control it and another four percent want things to stay the same.
The study that estimated the commercial cannabis production value was published by the University of the Pacific, Center for Business and Policy Research in Stockton. The report was commissioned by Ebbetts Pass Lumber Company owner Jason Hauer, an alumni, who's profits went up as commercial growers established their operations. The modeled scenarios developed for a study of the potential impact if commercial cannabis were allowed in the Sacramento area.
In Calaveras it was estimated that the 700-plus registered commercial marijuana grows in 2016 represent between 15 and 20 percent of the county's economy, creating 2,600 year-round equivalent jobs. More details about the study are here. An initiative to ban the cultivation, processing, delivery and dispensing of cannabis in Calaveras is expected on the June ballot. Controversy regarding the measure is detailed here.