Update: President's Day Storm Brings Warnings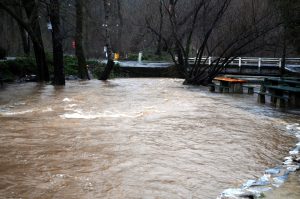 Murphys Creek at Algiers St. (File Photo)

View Photos
The National Weather Service has issued a Flood Warning for Tuolumne and Calaveras Counties until 4 PM Thursday.
Northern California is experiencing another significant uptick in flooding problems as an intense "Atmospheric River" storm continues to move through until tonight.
The entire region has saturated soils and many flooded areas already. This is enhancing the impact of additional heavy rains.
Additional stress is being placed on levees, rivers, creeks, and streams.
There is likely flooding in locations which haven`t been impacted in many years.
The National Weather Service is strongly advising all residents in Northern California to be prepared for flooding.
Be prepared to evacuate if flooding should affect your area. Gather a "go bag" with important items like medications and hard to replace documents. Don`t forget to plan for your pets and animals. Please never drive across flooded waters, especially flowing water. Most people who are killed or injured during floods are attempting to drive through flooded waters.
Additionally, a Winter Storm Warning is in effect for the Sierra Nevada until 10 PM Tuesday.
Eight to eighteen inches of snow is expected around the 7,000 foot elevation. Twenty inches to five feet of total snow accumulation is likely above 8,000 feet.
Snow levels are around 7,000 feet today. Snow levels will range between 4,000 to 5,000 feet on Tuesday.
Winds of twenty-five to thirty-five mph will continue in the Sierra, with gusts up to seventy mph.
Finally, a Wind Advisory has been issued for the Northern San Joaquin Valley until 4 PM this afternoon.
Gusts up to forty mph are likely.
Afterwards, a High Wind Warning has been issued for both the Mother Lode and the Northern San Joaquin Valley from 4 PM Monday through 4 AM Tuesday.
Wind gusts of fifty-five to sixty-five mph are likely.
A High Wind Warning means a hazardous high wind event is expected or occurring. Sustained wind speeds of at least 40 mph or gusts of 58 mph or more can lead to property damage.
A Wind Advisory means that winds of thirty-five mph are expected. Winds this strong can make driving difficult, especially for high profile vehicles. Use extra caution.
A Winter Storm Warning means severe winter weather conditions are expected or occurring. Significant amounts of snow are forecast that will make travel dangerous. Only travel in an emergency. If you must travel, keep an extra flashlight, food and water in your vehicle in case of an emergency. Strong winds are also possible. This will make travel very hazardous or impossible.