Couple Sought In Stabbing Captured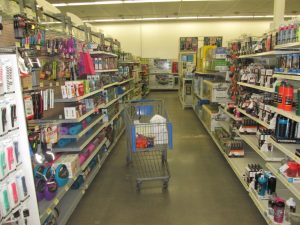 Cart left by suspects at Walmart

View Photos
Sonora, CA – The couple was shopping in the Sonora Walmart and when deputies approached them the male took off – but he did not get far as another shopper tripped him up.
An anonymous tip came into the Tuolumne County Sheriff's Office around 10:30 a.m. Thursday that the two fugitives, Dustin Stevens and Sooner Allen, were at the store. As reported here on Monday, the two 28-year-olds were wanted in connection with a stabbing where Dustin allegedly assaulted and stabbed a family member. He also removed his ankle tracking monitor before fleeing the home.
All the store's exits were blocked as deputies went through the building looking for the pair. They first found Allen who took off running but was later caught. Stevens was located at the back of the store and also fled from deputies. However, it was a short pursuit as another shopper stuck his foot out and tripped Stevens as he ran by allowing deputies to grab him.
Stevens faces charges of resisting arrest, assault with a deadly weapon, damaging a phone line preventing a call for help, possession of burglary tools, and removing his ankle tracking monitor. Allen was booked on charges of resisting arrest, and five warrants for violation of probation and failing to appear on burglary, drug possession and possessing drugs in jail.