Caltrans Updates Storms Impact On Two Sections Of HWY 26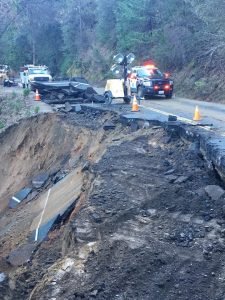 HWY26 washout damage

View Photos
West Point, CA — Caltrans reports crews are working non-stop to repair not only a washout but also a rockslide along Highway 26 with no reopening date yet in sight.
Pictures in the left hand image box show some of the damage. Caltrans spokesperson Skip Allum reports the recent drenching weather created problems in two areas of a nearly three mile stretch of the highway west of West Point in Calaveras County.  As reported here, the washout happened this past Friday forcing the closure from Higdon Road to the North Fork Mokelumne River Bridge. Then on Saturday afternoon, Allum reports that rocks came crashing down onto the roadway near the bridge extending the repair time. Allum notes, "It's hard to pinpoint how long it's going to take but I do hope that we should have a time frame by the end of the week."
While the roadway is being cleared and fixed Allum identifies a detour for motorists that will take them about 20 minutes out of their way. He states, "They [travelers] have to go all the way around. Those going eastbound on Highway 26 will be directed to take northbound Highway 49 to eastbound Highway 88. Westbound traffic will take Highway 88 to southbound Highway 49 to westbound Highway 26."
Another storm is due to hit the area on Thursday. Allum says that could bring further delays to the project but crews will be on site traveling the area looking for any additional problems.