Road Hazards Force School Closure And Shelter To Be Set Up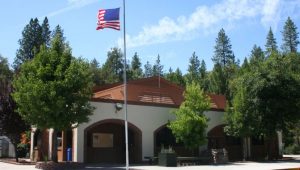 Bellview Elementary School

View Photos
Phoenix Lake-Cedar Ridge, CA — Belleview Elementary School officials report flooded roads mean no class for its 150 students on Wednesday.
As reported here, flooding has shut down a section of Kewin Mill Road, between Comstock Ranch Road and the school. School Secretary Denise Zwicker explains, "Due to the road closures in the area and the recommendation by the CHP and the [Tuolumne County] sheriff's department that we do close school. This is so we don't cause undo traffic on the one road that is being used for emergency services."
That roadway is Old Oak Ranch Road. The Tuolumne County office of Emergency Services (OES) reports that roadway is an alternative route for residents in the Cedar Ridge subdivision. Traffic will be allowed with flaggers on each end with a pilot car leading one-way traffic. Additionally, a Red Cross shelter has been set up at the Willow Springs Club House located at 20508 Willow Springs Drive in Soulsbyville. OES officials say it will be opened by 7:15 p.m.
Sheriff's officials report that county roads will conduct a safety inspection Wednesday morning to determine the damage on Kewin Mill.