Tuolumne County's Health Assessment Will Gain Additional Attention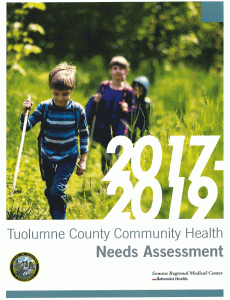 Tuolumne County's Health Assessment

View Photos
Sonora, CA — A 60-plus page Tuolumne County Health Needs Assessment will be used to develop a community health improvement plan.
We reported last November that the report was put together by the Tuolumne County Public Health Department and Sonora Regional Medical Center. After completing the assessment, a group was put together to identify the top priority areas for improvement planning based on the data. The group included representatives from the Tuolumne County Chamber of Commerce, Tuolumne Band of Me Wuk Indians, Tuolumne County Human Services Agency, Sonora Regional Medical Center, Tuolumne County Administration, Sierra Emergency Medical, ATCAA and the Sonora Area Foundation.
The group identified a few specific areas to focus on over the next three years. They include promoting healthy beginnings, reducing substance abuse and increasing access to care.
Some meetings are being planned for the near future where community members will have an opportunity to weigh in on the findings. Additional details are expected to be released at a later time. In the meantime, this week a new website was launched that details the report's findings. You can view it by clicking here.
The assessment will also be discussed on this upcoming weekend's Mother Lode Views radio show on the Clarke Broadcasting stations. Guests will be Tuolumne County Public Health Officer Dr. Liza Ortiz and Sonora Regional Medical Center's VP of Patient Care Julie Kline.