Storm Damage Keeps Two Roads Closed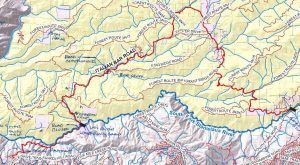 Map of Italian Bar Road closure near Columbia

View Photos
Tuolumne County, CA — Tuolumne County Road officials report two roads damaged by the recent storms will remain closed indefinitely.
As earlier reported here, Italian Bar Road on the Columbia side and Marshes Flat Road at the Kelly Grade in the Moccasin area were both washed out by the heavy rains. However, motorists can still use Italian Bar Road on the Twain Harte side and Marshes Flat Road to get in and out of the Lake Don Pedro subdivision.
Deputy Director of Tuolumne County Roads Duke York says most of the county roads have been plowed but there are still problems in areas like Mi-Wuk, Sugarpine and Pinecrest areas that were plagued with power outages. Last Saturday crews had to stop plowing those areas due to safety, according to Yoke who states, "There were so many power lines going down we just said, 'Hey this isn't even safe to plow it. Trees were dropping, power lines were all over the place we can't plow like this. It's just unsafe.'"
York says another problem is manpower. "The number of people we have in the road crew is we have fewer guys per division. When we get a low snow, the number of miles we've got to cover increase exponentially. Then we have to switch from snow plowing to sanding on the icy spots after that," says York. He adds berms left by plows are also a concern, reminding the public, "For those people that have snow berms along these roads that is not something that we can clear form them. They have to make private arrangements for that."
Additionally, York notes that once crews are done plowing they will have to work to remove the downed trees all over the county.
Click here for an update on the power outages in the Mother Lode.