Update: Wednesday Power Outages Restoration Times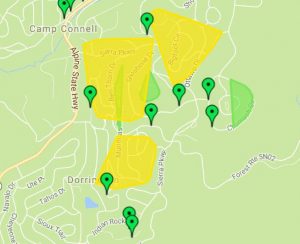 Dorrington and Camp Connell remaining outages

View Photos
Update at 6:30 p.m.: PG&E crews expect to have all Mother Lode customers lights back on by late Wednesday night.
In Tuolumne County, all but ten customers in the Cold Springs area have had the lights turned back on with the company giving an estimated repair time of 8:30 tonight.
In Calaveras County, more than half of the nearly 1,000 customers had their electricity restored by 5 p.m. All the remaining outages are on the eastside of Highway 4 with 487 customers in the Dorrington and Camp Connell areas.  PG&E hopes to have all the power restored by around 9:30 this evening.
Original post at 6:15 a.m.: Sonora, CA — Many schools in the Mother Lode are again starting late today due to icy roads.
You can find a complete list by clicking here.
There are still some power outages spread throughout the Mother Lode this morning. Over 1,000 are without power in the greater Arnold area and full restoration for the majority is anticipated early tomorrow afternoon. Power has been restored for much of Mi Wuk Village, but an outage in Cold Springs is impacting 106 customers and full restoration is anticipated late this evening. There are also 100 customers without power near Strawberry, and it is unclear when that outage will be restored.
There are smaller outages, impacting just a handful of customers, in Sonora, Tuolumne, Twain Harte and Long Barn.
Also of note, the emergency shelter at the Word of Life Fellowship Church in Mi Wuk Village closed last night. Many customers in that area had been without electricity since before the weekend before being restored.